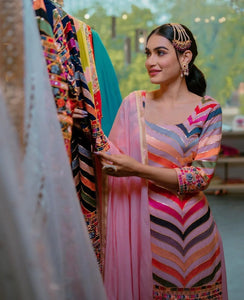 Eid salwar suit Shopping-fashion & blogs
Eid is a special occasion celebrated by Muslims all around the world. It is a time for family, friends, and good food. One of the most important aspects of Eid is dressing up in new clothes. Salwar suits are a popular choice for women during Eid, as they are comfortable, stylish, and versatile. In this blog post, we will discuss some tips for Eid salwar suit shopping.
                          Traditional Eid dress In Mumbai@ ashbhav.com
Start Early: Don't wait until the last minute to start your Eid salwar suit shopping. Start looking for options at least a few weeks before Eid so that you have enough time to browse different stores and find the perfect outfit.

Consider the Fabric: The fabric of your salwar suit is important because it will affect how comfortable you feel throughout the day. Choose a fabric that is breathable and lightweight, such as cotton or chiffon, especially if you live in a hot and humid climate.

Decide on a Style: There are many different styles of salwar suits to choose from, such as Anarkali, straight cut, palazzo, and more. Consider which style will suit your body type and personal preferences.

Choose the Right Color: Eid is a time for vibrant colors, so choose a salwar suit in a bold and bright color, such as red, green, or blue. You can also opt for a more subtle color, such as pastel shades or earthy tones.

Embellishments and Embroidery: Eid is a time for celebration and dressing up, so don't be afraid to choose a salwar suit with intricate embellishments or embroidery. This can include sequins, beads, or even gold or silver thread.

Accessories: Once you have chosen your salwar suit, it's time to accessorize. Consider adding a pair of statement earrings, a matching bangle or bracelet, and a pair of comfortable yet stylish sandals.

Tailoring: Make sure your salwar suit fits you perfectly by getting it tailored to your measurements. This will ensure that you feel comfortable and confident in your outfit.
In conclusion, Eid salwar suit shopping can be a fun and exciting experience if you follow these tips. Remember to start early, choose the right fabric, style, and color, and accessorize with statement pieces. With the perfect salwar suit, you can look and feel your best on Eid.
Buy Pink Salwar Suits for Women Online on Libas. Choose from a beautiful range of Pink Colour Suits in different fabrics & prints.
Eid Dresses - Shop from the latest collection of Indian dresses for Eid at

@ ashbhav.co

m. Choose from a wide range of designs and colors. Get free shipping.
---