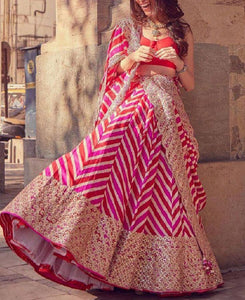 Party Lehenga Choli For Wedding Reception
Party Lehenga Choli For Wedding Reception
Are you attending a wedding reception soon and wondering what to wear? Look no further than the Party Lehenga Choli. This traditional Indian outfit is the perfect choice for a wedding reception, offering both elegance and glamour.
The Party Lehenga Choli is a three-piece outfit that consists of a long skirt, a short blouse, and a dupatta (a long scarf). The skirt is usually made of silk or other luxurious fabrics and adorned with intricate embroidery or beading. The blouse, which is shorter than a traditional saree blouse, is also decorated with embroidery and often features a plunging neckline. The dupatta is draped over the head or shoulders to complete the look.
When choosing a Party Lehenga Choli, consider the color and style. Traditional colors for weddings include red, gold, and pink, but you can also opt for more modern colors like blue or green. The style of the outfit can also vary, from a more traditional look to a modern and trendy design.
Accessorizing your Party Lehenga Choli is also important. A pair of statement earrings or a delicate necklace can add an extra touch of glamour. Consider a statement clutch or purse to carry your essentials for the evening. And don't forget about shoes! A comfortable pair of heels that match the outfit will ensure you look and feel your best all night long.
When it comes to hair and makeup, the possibilities are endless. A classic updo or loose waves will complement the traditional style of the outfit. A bold lip and dramatic eye makeup can add a touch of drama and sophistication.
In conclusion, if you're attending a wedding reception and want to make a statement, the Party Lehenga Choli is the perfect outfit. With its traditional elegance and modern flair, you'll feel both comfortable and glamorous all night long. Just remember to choose the right color and style, accessorize appropriately, and complete the look with the perfect hair and makeup.
Best Cocktail Lehenga Idea For Reception lehenga
If you're attending a wedding reception and want to wear something that's a little more modern and trendy, consider a Cocktail Lehenga. This style of lehenga is perfect for those who want to stand out and make a statement while still looking elegant and sophisticated.
Here are some Cocktail Lehenga ideas for your next wedding reception:
Metallic Lehenga: A metallic lehenga can add a touch of glamour and sophistication to your look. Opt for a gold or silver metallic fabric with a minimalistic design to keep the focus on the fabric.

Crop Top Lehenga: The crop top lehenga is a modern twist on the traditional lehenga. Pair a crop top blouse with a high-waisted skirt for a chic and trendy look.

Printed Lehenga: Printed lehengas are perfect for those who want to make a statement. Choose a bold and colorful print to really stand out in the crowd.

Cape Lehenga: A cape lehenga is a unique and modern take on the traditional lehenga. Choose a lehenga with a cape-style top for an elegant and sophisticated look.

Ruffled Lehenga: A ruffled lehenga is perfect for those who want to add some texture and volume to their outfit. Opt for a lehenga with ruffles on the skirt or the blouse for a fun and flirty look.
When it comes to accessories, keep it simple and elegant. A pair of statement earrings or a delicate necklace can add a touch of glamour without taking away from the lehenga. Pair the lehenga with a clutch or purse that complements the outfit and choose shoes that are both comfortable and stylish.
In conclusion, a Cocktail Lehenga is a perfect choice for those who want to stand out and make a statement at a wedding reception. Choose a modern and trendy style that suits your personality and accessorize with simple yet elegant pieces to complete the look.
Buy the latest range of Reception Lehenga Choli online at ashbhav.com. We have the collections of Reception Wear Lehenga Choli at affordable prices.
Different Choli styles: A reception lehenga also emphasizes on the blouse just like a bridal lehenga but offers more freedom.
Reception Lehenga: An ensemble that will be captured forever ... Marriage is a series of opulent and dressy events. Starting with a basic roka, the unison of a @ashbhav.com
Reception Lehenga Choli Online. Indian Cloth Store offers exclusive range of Lehenga Choli for Reception at affordable price. Buy latest Reception Lehenga ..
Party Lehenga Choli - Buy Designer Lehengas Wedding Party Wear Lehengas Bridal Lehengas Gowns Red Lehengas Silk Lehengas Anarkali Palazzo Blue Ghaghra.
---